New Photo: NOT Voldemort, Just One Freaky DE Mask?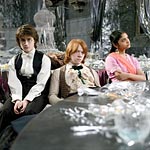 Oct 30, 2005
Uncategorized
UPDATE: Leaky can confirm that this IS NOT VOLDEMORT! This is just a DeathEater in one hideous mask
Redflu.com let us know they have posted pictures from Goblet of Fire Sticker book out in Argentina. It contains what is labeled a photo of Lord Voldemort. We at Leaky do NOT think this is Voldemort – much more likely adeath eater. CAUTION: Everyone, no kidding, this photo, whether it is Voldemort or just a Death Eater in a hideous mask, it will be quite disturbing especially to younger children. It looks like quite possibly just a mask for one of the Death Eaters or, or … we just can't be certain. You are cautioned, but click here to view. We did contact WB about this as well, and will update with more when we can.
Update: Hpana now has more scans from the sticker book on their site here.
Thanks Patricio!