Additional Goblet of Fire TV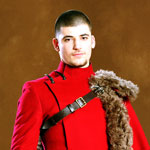 Oct 31, 2005
Uncategorized
There are several more television shows to tell you about that will feature Goblet of Fire coverage and appearances Harry Potter cast members.
*Actor Daniel Radcliffe will appear on the Today Show on Thursday, November 10th.
*Actor Ralph Fiennes will appear on Breakfast with the Arts on A & E on Sunday, November 13th at 8:00am (ET)
*A & E is set to air a preview of Harry Potter and the Goblet of Fire. Tv-now.com is listing the air times as follows:
Thu Nov 17 10:00P on A&E
Fri Nov 18 02:00A on A&E
Mon Nov 21 08:00P on A&E
Tue Nov 22 12:00A on A&E
Fri Nov 25 11:00P on A&E
Sat Nov 26 03:00A on A&E
Sat Nov 26 05:00P on A&E
Sun Nov 27 10:00A on A&E
* E! Entertainment is airing their Behind the Scenes feature on the making of Harry Potter and the Goblet of Fire. Scheduled air times: (Air times may vary in your area)
Nov. 17, 8:30 a.m., 2:30 p.m.
Nov. 18, 3:30 a.m., 8 a.m.
Nov. 19, 7 a.m.
Not really Goblet related, but if you can't get enough Harry Potter the weekend of the release on November 18th, ABC is rebroadcasting Harry Potter and the Chamber of Secrets on Saturday, November 19th at 8pm(et)
We also told you earlier about a UK Television appearance by actor Daniel Radcliffe who is due to appear on the "Friday Night with Jonathan Ross" program on the BBC, this Friday, November 4th.
The BBC show that we told you about a few days ago, with the interview with singer Jarvis Cocker containing the Yule Ball band and Flitwick clip, is set to re-air this Thursday, Nov. 3rd on BBC Four, 01:30-02:00 30mins (that's 1.30 in the morning!- Thanks Kath!)
Also, as we first told you previously, HBO will be airing their First Look program at the making of Harry Potter and the Goblet of Fire starting Monday, November 7th at 9:45pm(ET). The program will re-air at multiple times through out the month of November.
We are trying to confirm other appearances and will update this list with more as soon as we can.