Leaky Selected School Captain in TriWizard Tournament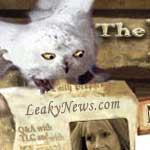 Oct 31, 2005
Uncategorized
Thanks to all your votes, I (and by extension Leaky) have been named a school captain in Dissendium.com's TriWizard Tournament, which is produced in cooperation with WB. I'll be leading Beauxbatons; Emerson from MuggleNet will lead Durmstrang, and Jeff of HPANA will lead Hogwarts. Thank you all for your votes! It's been fun so far – but it's just beginning.
To register for the tournament, you have to sign up for a PotterPass account by visiting this page. Once you're registered you can enter the tournament. It's technically past deadline to do so, but if you use the enrollment code LEAKY, you'll be allowed entrance, and will be sorted – hopefully into Beauxbatons.

We'll keep you updated over the next few months as activities require your attention and skill!
The site is overloaded right now, but we're told it'll get better in a bit; we'll update you when it does. Thanks to all!