New Goblet of Fire Clip on "Ellen"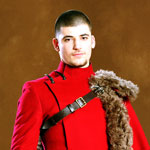 Oct 31, 2005
Uncategorized
We first told you that "Ellen" would be airing a special Goblet of Fire preview today on her program, and that show is starting to air this morning. TLC Reader Jaci was nice enough to send in a description of this preview which is actually an entire scene from the film featuring the tent scene with the first task, and Rita and the Harry/Hermione hug. Jaci writes:
"It was the scene in the tent just before the first
task, where Hermione is whispering to Harry from outside the tent, and then she slips in and gives him the infamous hug that Rita Skeeter catches. And then the clip just continued on. Dumbledore and Crouch, Sr, Madame Maxime and Karkaroff were in it, of course, and the four champions pulled the dragons out of the bag. That was a wonderful bit–the bag moved, and smoke came out of it when Crouch opened it! The clip ended as Crouch finished explaining what they had to do and you could see the apprehension on the faces of the four champions."
Sounds fantastic! Anyone with video of this, please send it in! Thanks very much Jaci!