"Ultimate Christmas at Hogwarts" Contest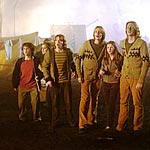 Oct 31, 2005
Uncategorized
While we are just finishing up Halloween, Warner Brothers have just launched the "Ultimate Christmas at Hogwarts " Contest as seen on Harry Potter.com. According to the rules, this Sweepstakes is open to all legal US residents of any age, and runs through December 2nd. This is in conjunction with the newly-launched Wish List part of the website, where you can choose a wish list of gifts of Harry Potter merchandise and send this list to your family and friends. The items included in both the wish list and prizes for the sweepstakes include many of the wonderful Noble Collection replicas, the new Tonner Harry Potter Dolls that we told you about previously, many of the new t-shirts from Hot Topic, The "Scene-It?" DVD game, Goblet of Fire Lego sets and more! To read the entire list of merchandise, click below. The Grand Prize winner of the Ultimate Christmas at Hogwarts wins the entire set of Harry Potter products included on the wish list. To enter,click here– Good Luck!
Note: Noble Collection now has also added Hermione's Pink Crystal Flower Earrings as part of their Harry Potter collection, here.
WB has also launched the "Wireless" portion of the Harry Potter.com website, where you can now download Goblet of Fire wall paper for your cell phone. Update: Miriam wrote to let us know that you can also apparently buy Goblet ringtones for your cell as well- and "Voice tones available include a short clip of Voldemort speaking, apparently from the beginning of the movie to Frank." Cool!Thanks Miriam!
For those who haven't visited the Potter film website lately as well, the Yule Ball section is also active now on the site, as well as the Mad-Eye Moody "Magical-Eye" game. Enjoy!
One (1) Harry Potter at Hogwarts Painting
One (1) Harry Potter at the Yule Ball Painting
One (1) The Hermione Time-Turner
One (1) Hermione Granger's Wand
One (1) Ron Weasley's Wand
One (1) Harry Potter's Wand
One (1) Final Challenge Chess Set
One (1) Hogwarts Bookmarks
One (1) Goblet of Fire
One (1) Voldemort's Wand
One (1) Lucius Malfoy's Walking Stick
One (1) Triwizard Cup
One (1) Harry Potter's Light-Up Wand
One (1) Harry Potter LUMOS Book Light
One (1) LEGOâ"¢ Harry Potter Rescue from the Merpeople
One (1) LEGOâ"¢ Harry Potter Graveyard Duel
One (1) LEGOâ"¢ Harry Potter and the Hungarian Horntail
One (1) LEGOâ"¢ Harry Potter The Durmstrang Ship
One (1) Harry Potter Gryffindor Postcard
One (1) Harry Potter Ron Postcard
One (1) Harry Potter Photo Postcard
One (1) Harry Potter Hogwarts Poem T-Shirt
One (1) Harry Potter Hogwarts Poem T-Shirt 2XL
One (1) Harry Potter Gryffindor Distressed T-Shirt
One (1) Harry Potter Gryffindor Distressed T-Shirt 2XL
One (1) Harry Potter Death Eaters T-Shirt
One (1) Harry Potter Death Eaters T-Shirt 2XL
One (1) Harry Potter Ravenclawâ"¢ Crest Tee
One (1) Harry Potter Ravenclawâ"¢ Crest Tee Plus Size
One (1) Harry Potter Gryffindorâ"¢ Crest Tee
One (1) Harry Potter Gryffindorâ"¢ Crest Tee Plus Size
One (1) Harry Potter Durmstrang Tee
One (1) Harry Potter Durmstrang Tee Plus Size
One (1) Harry Potter Ron Weasley Tux Tee
One (1) Harry Potter Ron Weasley Tux Tee Plus Size
One (1) Harry Potter Tux Tee
One (1) Harry Potter Tux Tee Plus Size
One (1) Harry Potter Photo Pin
One (1) Harry Potter Muggleâ"¢ Pin
One (1) Harry Potter Death Eaters Pins
One (1) Harry Potter Voldemortâ"¢ Returns Sticker
One (1) Harry Potter™ Scene It?® provided by Mattel™
One (1) Harry Potter "I solemnly swear that I am up to no good" T-Shirt provided by WB Shop
One (1) Harry Potter and the Goblet of Fire 100% Chenille Scarf provided by WB Shop
One (1) Harry Potter "Hogwarts Express" Electric Train Set by Marklin provided by WB Shop
One (1) Harry Potter Sorting Hat, Student Hat, and McGonagall's Hat Set provided by WB Shop