Where's John?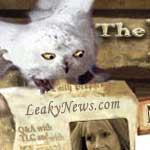 Oct 31, 2005
Uncategorized
Hey, guys. I need your help. John's gone.
I've been looking everywhere for him. Under all the Leaky staff room couches, under every sheet, and even Caldera Agujereada, our Mexican branch – he's fond of the burritos – and nothing. He's even gone from the staff page. You know, it's not like him to be late, but I'm starting to get a little, well…well, all right, truth be told we were supposed to meet up this evening. To talk about the site. That's all. And he's gone. And don't think I'm not un po' arrabbiato con lui!
A team of Leaky Lounge moderators are trying to find him; they've gathered clues and placed them in a thread, so head over there to keep an eye on the situation and gather evidence. Watch out; there are ghosts afoot, and Peeves is stirring up a ruckus as usual. Help us get John back by tomorrow night – find out who has attacked him and why – we'll reward you greatly! Now go, quickly – I'm – I mean, Leaky is – depending on you!