New GoF Clip: Post Second-Task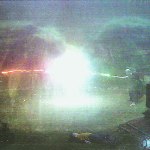 Nov 10, 2005
Uncategorized
A new GoF clip (post second-task) has turned up here, at CommeauCinema.com. Thanks Basiled!
Basiled also sent us a transcript of this clip – thank you Basiled!
Fleur to Gabrielle Delacour : "Come ! Come ! It's finished, yeah, give me your hand.">
Harry: "ASSENTIO"
Dumbledore : "Harry! He's alright. Barty? The judges have to assemble themselves."
Fleur to Harry: "Everything alright? You saved her! It wasn't your job to save her! My little sister! THANK YOU!" (kiss) (kiss)
Fleur to Ron: "And you helped him!"
Ron to Fleur: "Eeh yes, a little." (kiss) (kiss)
Fleur: "Gabrielle, my dear, come."
For ALL the GoF spots that have surfaced recently, check out our Trailers & TV Spots page.