A Report Direct from the Scene of the Podcast…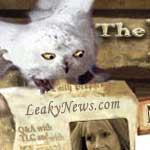 Nov 12, 2005
Uncategorized
Greetings from NYC! MuggleNet and The Leaky Cauldron have successfully entered both the Ziegfeld Theatre for the US Premiere of Goblet of Fire and the Barnes & Noble Union Square in preparation of tonight's live podcast! We plan on updating this newspost as the night goes on, but already we are meeting fans who've flown in from places like Minnesota and who also have waited loyally here for us since this morning at 8:00 AM!
The live podcast is to start recording as planned around 7:30 PM once Andrew and Emerson (Mugglenet's lucky ducks) and John Noe and Sue (our lucky ducks) have all seen the film. We are on the top floor of the Barnes & Noble here on 17th street between Broadway and Park Avenue in north Union Square. The seating area is currently roped off and fans are waiting eagerly in the store's Architecture section to be given a wristband and allowed in. We recommend that if you are in the area and can attend and want to have a place to sit during the podcast, please try and get here by 5 PM. There will be standing room as well while the podcast plays throughout the rest of the store, but you might find yourself leaning on copies of The Great Gatsby or sitting atop stacks of Disney SceneIt? boxes.
More updates to come soon, we hope, and if you want to see images as they're posted, visit Leaky Lounge. Tonight is going to be fun!
Posted by Heidi on behalf of the lucky crowd in New York City