WCBS Reports from the Red Carpet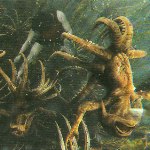 Nov 12, 2005
Uncategorized
WCBS in New York City spoke to Mike Newell, Dan Radcliffe and a few fans who were waiting to catch a glimpse of the stars at tonights GoF premiere in New York.
[A]s the popularity of the series continues to grow, so does the size of the premieres.
"Normally you'd think the fans might dwindle a bit but it hasn't at all. It's still really, really big," Radcliffe said.
Please Note: This includes a video story as well that you can see at the above link