Harry Potter's So-Called Life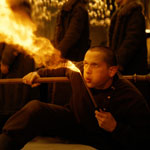 Nov 13, 2005
Uncategorized
The Chicago Sun-Times is featuring a story about Harry and his peers entering the "murky marshes" of adolescence, and about the darker tone of Goblet. The piece includes interviews with Director Mike Newell, Producer David Heyman, Daniel Radcliffe and Emma Watson. Here's a snippet about the PG13 rating:
Newell is faithful to his darker vision. "This Potter is a different animal. It's a much tougher beast," he says. "This is finally the film where Harry Potter is challenged. He never had to put up or shut up. He finally meets Voldemort, who wants to kill him."
"This whole film is about the loss of innocence," adds Radcliffe. "The first 'Potter' film was very wide-eyed and almost naive. Harry thinks the magical world will be better than the world he comes from with the Muggles. But now he's learning the magical world has even further extremes, like Voldemort."
You can read the entire article here.