Goblet TV Watch: Emma Watson on Tuesday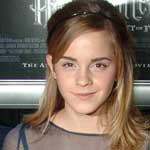 Nov 14, 2005
Uncategorized
Just a reminder for you tonight that actress Emma Watson (Hermione Granger) will be on the Today Show and Regis and Kelly tomorrow morning, Tuesday, November 15th. TheToday Show airs live from 7 to 10am (ET). Regis and Kelly airs live on the East coast at 9am (ET), and is syndicated with varying air times in other parts of the country.
Please Note: Emma Watson will also be appearing on CBS's The Early Show on Friday, November 18th.
Note: Our bandwidth is straining a bit so we're going to stick to a text-only page for now.