How Much Constant Vigilance Should Parents Display?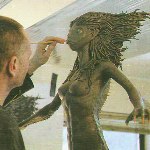 Nov 14, 2005
Posted by Melissa Anelli
Uncategorized
The Salt Lake City Tribune spoke to a few parents about whether they will allow their children to see Goblet of Fire, which has been rated PG-13 in the United States. One parent said, that knowing that Harry will survive his climactic encounter with Voldemort takes some of the edge off the film's fear factor. "If we had not read the books, I would not even consider taking them to this," she added.
"If it's a kid that's more anxiety-prone, I'd definitely keep them away until they were a little bit older," said Susan Wiet, a child psychiatrist and associate professor at the University of Utah. "A lot of kids, even if they don't have underlying psychiatric disorders like anxiety or mood instability, they can become pretty activated" by seeing scary or violent images onscreen.
Even children familiar with the books may not be able to handle the movie.
"When kids are exposed to something visual, it has more of an impact," Wiet said. "In the movie it's kind of forced upon them to see in a certain way, [compared with] when a child is listening to a story, where a parent can stop to explain what's going on."