Live PotterCast Delay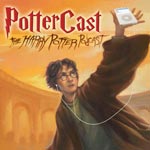 Nov 14, 2005
Uncategorized
Hey guys: we're trying to get a bit of the live PotterCast that was lost when we transferred media during recording so that the audio we put out will be complete. Right now the backup of it is on a format that we need special equipment to play, but we're working on it – so, sorry for the delay and hopefully we can share with you all the fun we had at the PotterCast very, very soon!
Update: A HUUUUGE thanks goes to Henry Falco, who you can visit at Moon-Studios.net – he has a great recording studio and offered help to us without even knowing the sites or our numbers. Thank you Henry! Everyone go visit his site as thanks, and also that of my photographer roommate, who referred him to us!
In short: We are editing the podcast together and it will be out soon!