CBBC Newsround Cast Interviews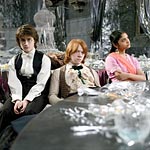 Nov 15, 2005
Uncategorized
CBBC Newsround has posted a fresh new batch of interviews with cast members from Harry Potter and the Goblet of Fire. There is a good interview with actor Robert Pattinson, who portrays Hufflepuff Cedric Diggory, where he talks about his role in the new film, and about his character in the fourth Potter film.
What were your first impressions of Cedric?
I think he's a pretty cool character. He's not really a complete cliche of the good kid in school. He's just quiet. He is actually just a genuinely good person, but he doesn't make a big deal about it or anything.

He's just like, whatever. I can kind of relate to that. He's not an unattractive character at all and his storyline is a nice storyline to play.
The interview with actress Clemence Poesy covers her role as Beauxbaton Champion Fleur Delacour, and some of her favorite scenes in Goblet of Fire.
Did you learn to dance?
Yeah, we did, we had some dance lessons and that was great fun because we shot that sequence actually two weeks before Christmas and the whole set was silver. We had dancing lessons all together which was something, because we're not dancers so it was quite funny! And then we spent the very last week before Christmas dancing all together so it was a bit of a party kind of spirit.
Finally, the interview with Stanislav Ianevski (Viktor Krum) includes topics such as filming the maze scene, and a bit of fun had by the cast during another filming session.
Did you have much fun on the set? You get Hermione's name wrong which gets a few laughs. Was that fun to film?
Yeah, definitely. Not only to film – I remember in the Great Hall, when we were eating ice cream and cakes and everything, and suddenly the cast just went mad, splashing juice all over each other and the costumes went all dirty – and it was just crazy!