More Positive Reviews for Goblet of Fire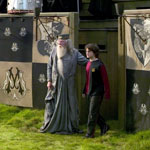 Nov 15, 2005
Uncategorized
There have been several more reviews posted online today, all with mostly favourable remarks for Harry Potter and the Goblet of Fire.
The Associated Press has given a generally positive review overall for the new film, however they do not seem to impressed with the sets and the three tasks noting:
" While these are the most extreme examples of the movie's intensity, they're also the ones that are the most emotionally powerful. Director Mike Newell has crafted a film full of images that are vast and wondrous, but strangely detached and obviously artificial, similar to the look of the "Lord of the Rings" movies. You can appreciate the enormity of the visuals, but they seem so distant, it's difficult to feel engaged by them."
The review does go on however, to praise Mike Newell for being "more in touch with the innate Britishness of Rowling's books, both in its sense of humor and in its boarding-school setting." They continue on to say:
Newell (working from a script by Steve Kloves, who has adapted all of Rowling's books and had his work cut out for him with the 734-page "Goblet of Fire") seems less interested in the whimsical magicality of Hogwarts' halls – thankfully, since we're all over the moving staircases and talking portraits by now – and focuses more on Harry and his friends as they come of age.

"Goblet of Fire" is more effective in these smaller, more intimate moments than in the bloated bombast of its larger set pieces. One of Newell's best-known and loved films is "Four Weddings and a Funeral," and he applies that same keen sense of romantic comedy timing here."
Rolling Stone Magazine has also posted their review of the film, giving it three stars. Peter Travers writes:
"Scariest of all is Ralph Fiennes doing his Red Dragon stare as Lord Voldemort, the fiend who killed Harry's parents. Freud would have loved this Goblet. With the cast getting looser and the mind games kinkier, it's hard to resist."
Finally, Quint from Aint It Cool.com, gives a very positive review of the newest Harry Potter film. In a frank and spoiler-filled review, he writes:
"Rupert Grint comes [sic] close to stealing the movie, though. Grint, like Radcliffe with Potter, IS Ron Weasley. His character is more fun to play, I'm sure, but of the group Grint seems the most natural with the character. I'd be shocked if Grint isn't exactly like Ron in real life, he embodies the character that much."
CAUTION to Parents: Mature language and content in comments at AIC link.