John Noe in the Toledo Free Press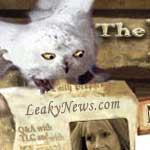 Nov 16, 2005
Uncategorized
Our own John Noe has been featured today in the Toledo Free Press about hs premiere experience this weekend:
"It was exciting to meet Dan Radcliffe, who plays Harry Potter," Noe said the day after the premiere. "Just because, obviously, he's the big cheese of the whole thing. But it was actually most interesting for me to listen to the interview with the director (Mike Newell), because he was talking about what they decided to cut from such a large book and why they did, and what sort of deleted scenes we were going to be able to expect [on the DVD]."

Noe called the red-carpet experience "surreal," and said he also enjoyed the fortune of getting tickets to a special party later that night after the premiere.

"We got to be part of maybe only four or five dozen people at this party at that point; that included all the main cast and crew of the film in a more informal setting where we could just kind of chat about what we liked about [the film]."
John also says his goal is to learn enough about visual effects so that he can work on the last Potter film – well, WB, if you think I'm going to let you steal him from us you got another think coming, let me tell you…
NOTE: We are going bandwidth wild today, so we'll be on our text page for a bit. We know, we know, you like the Hedwig graphic better, but weigh that against actually being able to get on the site, k?