Many More GoF Cast Interviews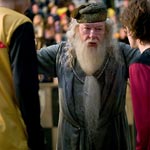 Nov 16, 2005
Uncategorized
Here are many new interviews with Goblet of Fire cast members for you to enjoy tonight. First up: CBBC Newsround has video interviews up with Daniel Radcliffe, Emma Watson, and Rupert Grint. To see the video, click here, then on Wednesday, November 15th. There are also transcripts up for the interviews with Daniel, Emma, and Rupert.
Reader Kim let us know that VH1 interviewed actor Daniel Radcliffe who discussed the theory that Snape and Lily Potter might have had some sort of relationship, and that may impact the outcome of Book Seven.
Do you hate Alan Rickman's character Severus Snape as much as I do now after reading Harry Potter and the Half Blood Prince?

Unless he's like a double double double double spy! That's the thing: Alan Rickman knows the truth about his character! He knows. He has got information from J.K. Rowling — I think probably the only person in the world, but he knows about Snape!

Wow!

You just don't know. If you'd read the first book, and somebody had told you what was going to happen in the fourth, you would never have believed them. But by the time you get to the fourth, there is an utterly logical and satisfactory explanation for everything that happens. If anyone's gonna come up with Snake being a double double double double spy and make it believable, it will be J.K. Rowling.

You've speculated that Harry might not get out of the whole thing alive. I don't know if that was before you read the sixth book. Now I don't see how he can handle Voldemort on his own.

Really? I think there has got to have been something between Snape and Harry's mum in it. I don't know that for sure. But I mean, based on what you sort of seeing in the fifth book, I think there was something more to their relationship. I certainly think you're right, and I'm not sure Harry could take him on alone, unless there's a very big event that really hardens Harry and strengthens him halfway through the seventh. I don't think he's a powerful enough wizard. Maybe that will be Snape's redeeming quality!
Empire Online has posted two more new interviews; one with Clemence Poesy (Fleur) and one with Katie Leung (Cho Chang).
Yahoo Movies has several video interviews online now with Dan Radcliffe, Emma Watson, Rupert Grint, and Goblet director Mike Newell. To watch, click here, then scroll down under the clips to the "More" section.
Finally, CNN's Headline News ShowBiz Tonight program is airing a special on Goblet of Fire every night this week. Oliver from IntothePensieve.com let us know that he has the video of tonight's interview with Emma Watson here at this link. Last night they featured the Harry Potter franchise, and you can watch that video, here. Tomorrow, Thursday, November 17th, they will feature Daniel Radcliffe. Friday night will be live coverage of the Goblet release here in theatres in the States. Phew! Enjoy!
Thanks to Kim, Oliver and everyone who emailed!