MSNBC Profile of Mike Newell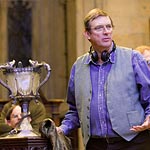 Nov 16, 2005
Uncategorized
A profile of Gof Director Mike Newell on MSNBC gives insight into his approach to making the film, not only in terms of adapting the book, but in learning to embrace CGI technology as well.
"The first British director to oversee a "Harry Potter" film, Newell said he fought hard to keep the extravagant computer-generated imagery in its place, namely, in service of the story and not just a collection of pretty pictures for their own sake. . . [CGI is] a technique which I have now really learned and had an enormously steep learning curve and fantastic on-the-job training. I'm kind of a convert. I don't want to do it all like that, but I think simply it's a technique like any other. It's like having lights to shoot at night."
The article also contains interviews with Daniel Radcliffe and Brendan Gleeson, in which they discuss Newell's working relationship with the younger actors. Check it out here.