"Animal Magic" Video and More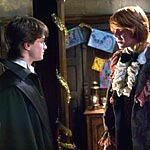 Nov 17, 2005
Uncategorized
There are some new video clips of cast television appearances online today for you to add to the collection. The amazing Jas from DanRadcliffeOnline.com has posted the trio's appearance on ITV's This Morning program, which you can download via this link.
We also told you previously about a 30 minute program that was to air on ITV about the animals used in the Harry Potter films called "Harry Potter: Some Animal Magic" which also featured cast interviews. This show aired over the weekend and Jas was able to capture the video, which you can now download it via the three links below. Please note that these downloads do take a few minutes to complete, so please be patient as they are well worth the wait.
Animal Magic- Part OneAnimal Magic- Part Two
Animal Magic- Part Three
Animal Magic- Part Four
Also, Jake sent in a clip from that G4 special which unfortunately had nothing about the Goblet video game, but did have the cast interviews with Dan Radcliffe, Emma Watson, Rupert Grint, and Mike Newell, which you can download here.
Thanks Jake and Jas!