Major Reviews for Goblet of Fire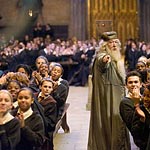 Nov 17, 2005
Uncategorized
Many of the major reviews for Harry Potter and the Goblet of Fire have now been released. Newsweek, USA Today, The New York Times and noted film critic Roger Ebert have all posted positive reviews for the fourth Harry Potter film.
David Ansen of Newsweek is positive of the film saying this is the "funniest, scariest, and possibly the most human of the series." He continues:
"The uncontestable triumph of "Goblet of Fire," however, is Brendan Gleeson's Alastor (Mad-Eye) Moody, the grizzled new Defense Against the Dark Arts professor. With a face like cracked pottery and a manner both menacing and mentoring, he becomes Harry's protector as he faces life-threatening tests. Gleeson, one of the screen's greatest character actors, steals every scene he's in-no small feat when you're up against Maggie Smith and Alan Rickman."
Claudia Puig from the USA Today rates Goblet with three out of four stars. Quotage:
"The film is the first directed by a Brit, Mike Newell (Four Weddings and a Funeral). It doesn't have the rich look of the third film, directed by Alfonso Cuaron, but the series continues to captivate. The world's favorite magical trio may be going through an awkward stage, but the movie franchise is maturing smoothly."
Reader Adam let us know that film critic Roger Ebert gave strong praise to Goblet of Fire with a three and a half star ranking. He gives praise to director Mike Newell and his work on the film, noting "The film is more violent, less cute than the others, but the action is not the mindless destruction of a video game; it has purpose, shape and style, as in the Triwizard Tournament, which begins the film…He[Newell] balances delicately between whimsy and the ominous, on the uncertain middle ground where Harry lives, poised between fun at school, teenage romance and the dark abyss."
Finally, The New York Times have posted their review of Goblet of Fire. They praise how "the director Mike Newell embraces the saga's dark side with flair." The review is very enthusiastic about the adult actors saying:
" As good as these actors are, nothing prepares you for the malevolent force that is Lord Voldemort and the brilliance of the actor playing him, Ralph Fiennes…Mr. Fiennes is an actor for whom a walk on the darker side is not just a pleasure, but liberation. His Voldemort may be the greatest screen performance ever delivered without the benefit of a nose; certainly it's a performance of sublime villainy."
To read the entire NY Times review registration is required (free).Harry Potter and the Goblet of Fire opens nationwide in theatres tomorrow.
If these aren't enough reviews for you, check out RottenTomatoes which has a huge list of reviews for Goblet of Fire, here.