Video of A & E Goblet Special, More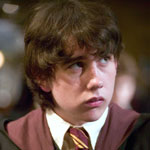 Nov 18, 2005
Uncategorized
Today, Emma Watson (Hermione Granger) appeared on CBS's The Early Show. Oliver, from IntothePensieve.com let us know he has the video from that appearance, here.
Last night, A & E broadcast an excellent hour long special on the making of Harry Potter and the Goblet of Fire. HPANA has now posted the video segments from this show via this link (Quicktime). Please note, these are very large files and take a while to download.
Also, Char from JasonIsaacsPhotoAlbumsOnline.com has posted some screencaps of the wonderful Mr. Isaacs as Lucius Malfoy from the A & E special, and you can see some new photos of Jason and Tom Felton (Draco) in the Quidditch World Cup scene, here.
Thanks to Oliver, Char, and HPANA!