The Return of R.A.B?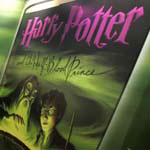 Nov 19, 2005
Uncategorized
As many of you know, in Harry Potter and the Half-Blood Prince, we learned of a character called R.A.B. that played a key role involving a locket and Voldemort's Horcrux. There has been a great deal of speculation and reports about the possible identity of that character. Yesterday, the Dutch version of Harry Potter and the Half-Blood Prince was released, and the identity of the character is translated as "R.A.Z." The name Sirius Black is translated as Sirius "Zwarts", with a 'Z.' Please note: While this is NOT positive confirmation of who the character is ( most are speculating Regulus Black), it certainly is intriguing. Let the discussions begin again! Thanks to the many readers who wrote in.
Update: This apparently is the same situation in the Norwegian edition of Half-Blood Prince, where his last name is translated as 'Svaart'.