New Interview with Steve Kloves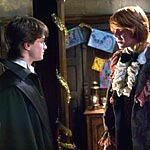 Nov 20, 2005
Uncategorized
The Los Angeles Times has a new interview with Goblet of Fire screenplay writer Steve Kloves. In this interview he talks about how they worked up to the last minute to hone the script down on Goblet noting "Last Christmas, Mike [Newell] looked at footage and decided he wanted to emphasize certain plotlines," Kloves says. "Not a lot of work, but very meticulous throughout the whole script. I was still writing lines in June and July." Mr Kloves continues on to talk about some of the characters and their actors in Goblet of Fire.
"… he was hoping, for example, that the character of Draco Malfoy would come more into the fore in "Goblet." "Tom Felton [who plays Malfoy] is such a wonderful actor," Kloves says. "I was hoping that Draco would become a little more dangerous." That seems to have happened in "Half-Blood Prince," but again, Kloves has no way of knowing exactly where the character is going. He was pleased to be able to give Rupert Grint, who plays Harry's best friend, Ron Weasley, room to stretch in "Goblet of Fire." Grint, he says, is such a natural-born comedian that the filmmakers have to fight the urge to let him become simply the comic relief. "In 'Goblet' we gave him some brass, which made me very happy. Rupert is amazingly funny, but I didn't want him to become Abbott to Harry's Costello."
Steve Kloves confirms again he will indeed be back for the film version of Harry Potter and the Half-Blood Prince. He speaks about the death of a much beloved character in Book Six, and the pivotal role of the character of Severus Snape, and the actor who portrays him, Alan Rickman.
"…Not that he is always surprised by the turns in Rowling's plots: The death of Headmaster Albus Dumbledore at the end of "The Half-Blood Prince" did not surprise him.

"This is a coming-of-age story for Harry," he says. "And at some point he has to make the journey alone. Which he can't if Dumbledore is around to protect him." But he has no idea whether Professor Severus Snape is guilty of murdering the beloved Hogwarts headmaster. He is happy that Snape plays such a large role in the sixth book, mainly because he loves writing for Alan Rickman, who plays the professor.

"It's hard because if you look at the books, Snape really just sort of hovers, as a threat, more than actually does something," Kloves says. "And Alan is just a wonderful actor. He always says the lines exactly as I write them, including the ellipses. I have never met an actor who could act out ellipses, but Alan can."
Thanks Jamie!