New Phelps Twins Interview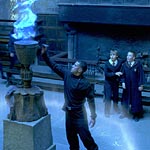 Nov 21, 2005
Uncategorized
The Ball State Daily News is running this interview with James and Oliver Phelps, who have protrayed the Weasley twins in the first four HP films, and here confirm that they are on board for Harry Potter and the Order of the Phoenix. (Let's all hope their grand exit scene is given its due in this film!)
The interview also gives us an idea of how the twins spend their time when they are not filming, including working behind the scenes on the film adaptation of The Da Vinci Code.
Thanks (again!) Jas!