Goblet of Fire and the Oscar Awards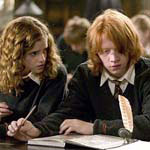 Nov 22, 2005
Uncategorized
While Harry Potter and the Goblet of Fire has just been released in movie theaters, the campaign to promote the film for possible nomination for an Oscar Award has already begun. Ads are now appearing on Ebay, taken from movie trade publications, promoting the new Harry Potter film for consideration for awards given by the Academy of Motion Picture Arts and Sciences. The categories Warner Brothers would like to see Goblet of Fire recognized for achievements in include the following:
BEST PICTURE
Produced by
DAVID HEYMAN
BEST DIRECTOR
MIKE NEWELL
BEST ADAPTED SCREENPLAY
STEVE KLOVES
BEST ART DIRECTION
Production Designer
STUART CRAIG
Set Decorator
STEPHENIE McMILLAN
BEST CINEMATOGRAPHY
ROGER PRATT, BSC
JANY TEMIME
BEST FILM EDITING
MICK AUDSLEY
BEST MAKEUP
Makeup Department Head
AMANDA KNIGHT
Key Hair Stylist
EITHNE FENNEL
BEST ORIGINAL SCORE
PATRICK DOYLE
BEST SOUND MIXING
Production Mixer
DAVID CROZIER
Re-Recording Mixers
MICHAEL PRESTWOOD SMITH
TOM JOHNSON
BEST SOUND EDITING
RANDY THOM
DENNIS LEONARD
BEST VISUAL EFFECTS
JIM MITCHELL
TIM ALEXANDER
TIM WEBBER
JOHN RICHARDSON
We will of course continue to update you on any possible nominations involving Harry Potter and the Goblet of Fire for any award as we can. The Oscar nominations will be formally announced on January 31st, 2006.
On a related note, reader Chris let us know about a rumor posted on Film Jerk .com about a possible Harry Potter Oscar party that Warner Brothers is possibly holding on the day of the Oscars to help promote literacy. The article reads
"One source, speaking on the condition of anonymity, describes the event as "beyond huge. There are multiple charities on board, multiple production companies, and we're just barely getting started. [The event's organizers] are obsessive about making this a success, and I'm told the public will be able to attend. [They] are equally hardcore about promoting the literacy side of things. Everyone's going to have a wild time, but there's something serious and positive happening here as well."

The source also confirmed that the choice in scheduling is designed to take advantage of the Oscars. "Everyone's already in town, already dressed up for a night out. What better way to further a literacy cause?" A second source, a member of a third-party company contracted to design the event's theatrics, acknowledged that he'd "never seen anything like it. I'm not supposed to talk about it and I'm obviously biased, but I have worked a few post-Oscar parties in my day. What they're planning is, frankly, insane."
Please consider this very much still in the rumor category. We are trying to get some confirmation on this, and will update you when we can. Thanks Chris!