Goblet of Fire Props Exhibit in Japan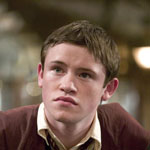 Dec 01, 2005
Uncategorized
We have a real treat for you tonight. TLC Reader Di attended an exhibit in Japan held by store Isetan, that featured many of the beautiful costumes and props used in the new Goblet of Fire film. Di took some wonderful photos of this travelling exhibit in Matsudo, Japan, which you can view here. In these very clear pictures you can see details of many things such as the wording on the Hogwarts School books used in the film (including Neville's Magical Water Plants book), the detailing and finery of the Yule Ball gowns, the etchings on the Golden Egg, and even the claws on the fur that adorns Krum's Dress robes. Enjoy!
Please note: The Isetan store also has a multitude of very cool GoF and Harry Potter products for sale which you can see via this link (click on the long grey box at the bottom). This editor admits she is partial to those Leaky Cauldron magnets.

Thank you very much Di!