G4: Leaky's Fourth "Get a Clue" Charity Drive Open! Get Your Leaky and PotterCast shirts!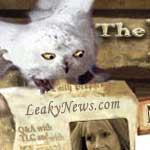 Dec 10, 2005
Uncategorized
The fourth "Get a Clue" drive is now open!
Four years ago, almost to the date, we opened our first-ever "Get a Clue" drive for charity. At the time, the purpose was to collect enough money to bid on a 93-word card containing clues about Harry Potter and the Order of the Phoenix, but it turned into a worldwide whipround to collect money to aid Book Aid International, a charity that aims to bring literacy to the developing countries of the world. It was named "Get a Clue" to honor what we were doing at the time: trying to get clues about book five, and urging others to get a clue about the state of world literacy.
Each year we've had a holiday fundraiser so-named in honor of that drive, and this year is no different. This year we'll be selling the so-often-asked-for Leaky Cauldron and PotterCast t-shirts, and all money raised will benefit Book Aid International.
The shirts are available in Adult Small through adult XXXL. If you order before Dec 16, they will arrive for Christmas, but since we got a late start on this this year (hey, it's been a rough few months – a book and a movie, jeesh), this drive will go through December 31, 2005. We're not sure if these shirts will be available after that, so if you ever wanted a Leaky shirt now is the time! You will be helping thousands of people learn to read.
The Leaky shirts were designed by our newest designer, Heather Campbell, and the PotterCast ones by our most senior designer, John Noe. Each are $12.00, and are available at this link.
Enjoy! Happy Holidays! Spread the word! Thank you for your support!