PotterCast #17 Now Available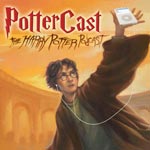 Dec 13, 2005
Uncategorized
PotterCast #17 is up and available for download! In this show:
On this show:
-Introducing…Julie Tynion!
-The mailbag crew figures out the whole ending to Harry Potter. (Sorry, Jo!)
-The fan interview goes back to the day of the live podcast, with our first attendees!
-Wand and wand theory in the modcast
-A truly demanding guest on Extendable Ears
-Get a clue! Participate in Leaky's fourth annual drive for literacy!
-Two impromptu contests: Fill in the 93-word card, and tell us what's on Voldemort's iPod
-A very exciting announcement about Extendable Ears is coming shortly
-We "Spy on Spartz" a la MuggleCast (Really. Blame John.)
-Burritos in the Cauldron Shop?
-ONE DAY LEFT to send in your Christmas filks!
If you are new to all this podcasting stuff, it's really easy: download and install iTunes, then click here to listen. (There's a tutorial right here.) Everything else is at PotterCast.com – you can also direct download it here, and discussion of the PotterCast is right here. ENJOY!