New Daniel Radcliffe Interview in K-Zone Magazine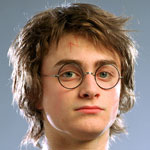 Dec 20, 2005
Uncategorized
Andy, from Harry Potter Fan Zone, let us know about a new interview published in K- Zone magazine with actor Daniel Radcliffe. While alot of this information about his experience on Goblet of Fire we have heard in some fashion previously, and there was this funny bit (kidding around) about Rupert Grint's newest project:
KZ: Do you and Rupert still get up to fun stuff or have you matured?.

DR: It isn't so much that we've matured, but we've been forced to grow up 'cos of school! I never saw this, but I was told Rupert was making a film out of LEGO people. I really wanted to see it and would have been involved if I wasn't doing exams.

KZ: What was the film about?

DR: I have no idea. It might be a Harry Potter film in LEGO 'cos they make Harry Potter LEGO! I remember during the third film we were building a mini-golf course out of cardboard boxes, but that was a while ago. I can't remember anything funny we really did during Goblet of Fire.

KZ: They're working you too hard obviously…

DR: Seriously, that's what it is! You should call the producer David Heyman's office and say, "you didn't allow Dan to participate in the LEGO film. How dare you?"
There is also a small mention of Dan saying he would be interested in making a film version of Half-Blood Prince. You can see all 12 pages of scans from this magazine via this link. Thanks Andy!