PotterCast #18: The Special Holiday FilkCast – Now Available for Download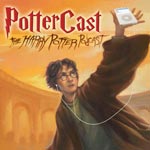 Dec 20, 2005
Uncategorized
PotterCast #18 – the much-anticipated, much-appreciated, muchly-syncopated special Holiday Filkcast Edition is up and available for download! You all have been sending us your song parodies for two weeks, and they're awesome – and the episode includes some surprises, too.

Track Listing:
The PotterCast Song – Guru of Sloth
The Christmas Filk Song – The PotterCast Trio
The 12 Days of (John Noe) Christmas
Voldie Baby
I'll Be Home for Christmas (for Neville) – Carrie
Won-Won Baby – KelAzma
A Visit from St. Nick – Weird Sis
The Leaky PotterCast – JasperW
I Saw Susan Kissing Sirius – TMoney
The Potter Hallelujah Chorus – In Carpet Slippers
You're a Mean One, Madam Pince
Draco's Christmas
Crucio! Crucio! Crucio! – The Leaky Marauders
Dark Mark Blazing in the Sky – The Azkaban Trio (The Guru of Sloth, KelAzma and Trozam)
O Night They Died
It's John Noe!, It's John Noe!, It's John Noe
Harry, Harry, Harry – Hope and Spencer
Snape's Getting Nothing for Christmas
An Egg from a Stranger – Jill
The Lounge of Leaky
I Let Madam Pomfrey Fix My Two Front Teeth – Jill
It's Voldemort Outside! – John Noe and Melissa Anelli
Dobby, Dobby, Dobby – Bandersnatch
Have Yourself a Holiday at Hogwarts – Frita from Kansas
Oh, Harry Night – Rosalind McGonagall
Lucius, Baby – Sue Upton

In the wrapup: A P.O. Box update; PotterCast has a new phone number, you can review us on iTunes now, and more announcements and holiday silliness.

The two podcasts mentioned at the end of the show: MacNation, Stevivor

Running time: 1:12:38
PS – If your song wasn't chosen, don't worry – a whole other episode of songs waits for the next installment. We even saved some of the best for that one, to balance it out.

If you are new to all this podcasting stuff, it's really easy: download and install iTunes, then click here to listen. (There's a tutorial right here.) Everything else is at PotterCast.com – you can also direct download it here, and discussion of the PotterCast is right here. ENJOY!
Update: If your filk is in this episode, would you stop by the Leaky Lounge and drop off your lyrics in this thread? It would really help our transcript elves out. Thanks!