J.K.Rowling Wins Henson Award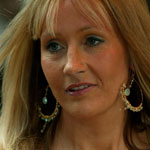 Dec 21, 2005
Uncategorized
It was announced today that Harry Potter author J.K. Rowling has won the highest honor from the Jim Henson company. These awards, in their inaugural year, are going to persons who most reflect" the core values and philosophy of Jim Henson and the company he founded in1955." Jim Henson is known world wide as the creator of the dearly beloved Muppets and wonderful entertainment for children of all ages. J.K. Rowling was given the "The Jim Henson Celebration Honor " Quotage:
" The highest honor goes to an individual, organization or product that
makes the world a better place by inspiring people to celebrate life.
Ms. Rowling, beloved author of the international best-selling Harry Potter
books, was selected for this honor for her imagination and originality in
creating the fantastical world of Harry Potter and for the amazing impact
these books have had around the world. "
The son of Jim Henson added ""By encouraging audiences of all ages to rediscover the magic of books and
reading, Ms. Rowling has truly made this world a better place." Hear Hear! Congratulations Jo!