PotterCast #19: Part 1 of the Live Call-In Show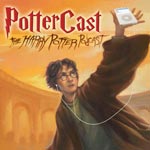 Dec 28, 2005
Uncategorized
PotterCast #19, the first part of the results of our live call-in show that took place on Dec. 10, is now available for download! Show notes:
PotterCast #19 is the first of two parts, bringing our fist-ever live call-in episode, where we answered Skype calls so we could directly answer our listeners' questions. The sound quality is a bit different than usual, as we had to record it via one internet connection – so thanks for the patience! The second part will be out later in the week. On this show:
-A call all the way from Austria
-Someone PLEASE let Chipotle know about John's free advertising
-Eddie Izzard for Fenrir? Jesse Martin for Kingsley? (Melissa says yes! – alas, he is American)
-Which HP character do the podcasters want to be?
-Mary Barbara – a.k.a MuggleCast's Andrew Sims – ditches his family Christmas party to call in his first-ever PotterCast appearance
-Melissa's family is quite thrilled that her fan club is called M.A.F.I.A. Really.
-John thinks Harry's going to die. No. Yes. No. Yes. Maybe.
-Sue recalls her trip to Europe
-The PotterCast movie: Jason Isaacs plays Sue
-Harry/Ginny talk from one of the fandom's most vocal R/H'ers
-Our least favorite HP books
-What do you call the child of a squib?
-The big queestion: Who'd win, Voldy or Vader?
-A nice H/H'er recounts her favorite parts of the film, and dishes on Emma's Hermione
-Part Two Coming Soon!

Running time: 58:20
If you are new to all this podcasting stuff, it's really easy: download and install iTunes, then click here to listen. (There's a tutorial right here.) Everything else is at PotterCast.com – you can also direct download it here, and discussion of the PotterCast is right here. ENJOY!