Goblet of Fire DVD Release March 7th?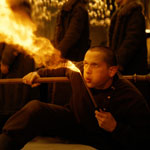 Dec 29, 2005
Uncategorized
Over the past few weeks rumors have been swirling about on the net regarding a possible release date for the Harry Potter and the Goblet of Fire DVD. Some have said it was to be on April 4th, and now two today reached us with a different date. Davis DVD andVideo ETA have posted release dates now as March 7th , 2006. The info on the Davis site says that there will be a two-disc set with " deleted scenes, behind the scenes featurettes, set top games and activities-including the Triwizard Tournament Challenge-and more. "
While we can NOT yet confirm either of these dates, we do know that previously on Nov. 7th we reported on things to be included in this DVD. Quotage:
"Jarvis Cocker and Radiohead play songs which are short in the film, but are in full on the DVD…I've done a director's commentary, of course." Producer David Heyman also spoke of the Goblet DVD saying "There will be some deleted scenes, how we did certain things, how the effects were done and behind the scenes interviews – probably greater access that we've ever had before."
So while all this sounds very promising, we consider these dates as still very much rumor until WB officially announces the release date for the GoF DVD. Thanks Amar!