LeakyMug #6: The last joint Potter/MuggleCast of 2005!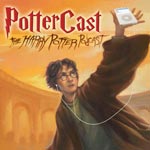 Dec 31, 2005
Uncategorized
PotterCast and MuggleCast team up again for the last LeakyMug of 2005! Attention Listeners: If you're not doing anything for New Year's Eve, turn this show on at exactly 11:12 p.m. your time, and we'll ring in the year with you! In this show:
-Sue joins the crew
-Ben chickens out, while Melissa swears revenge
-Jamie's 90% official for Vegas
-MuggleCast fan chat converted; they even send Melissa a Happy Birthday message
-A look back at the last four months of joint podcasts
-Kevin loves being stalked
-The boys try to start rumors about Jo! (Sue immediately quashes them.)
-PotterCast makes a big announcement: an interview with Arthur Levine, editor of the U.S. editions of Potter
-We read our favorite hate mail on the show
-The Andrew "yeah"s start the most annoying trend since the macarena
-The LeakyMug Tour, coming to a city near you
-Our memories of July 16, 2005
-Papa Spartz says "lose the tone."
-John calls Emerson, who insists an appearance was not in his contract (but will give us all free iPods, so it's OK)
-Emerson's going to propose to Melissa in Vegas; Melissa outlaws leprechauns at the wedding
-Sue outsings Emerson with the Ohio State fight song
-The MuggleBoys are soon to be on PotterCast
-John pays someone to write his jokes!
-John's family hijacks the show from the background
-The Vegas hotel room – whose name should it be under?
-Our resolutions!
-Kevin and Melissa go to the backwards compatible room
-The Jo Rowling podcast?
-NO more waiting for Emerson to talk Edinburgh. No more!
-HAPPY NEW YEAR!
If you are new to all this podcasting stuff, it's really easy: download and install iTunes, then click here to listen. (There's a tutorial right here.) Everything else is at PotterCast.com – you can also direct download it here, and discussion of the PotterCast is right here. ENJOY!