Widget Update: DVD Countdown Widget, News Widget for Windows Update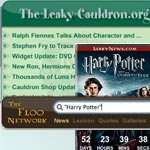 Jan 14, 2006
Uncategorized
So many people asked for this right after we found out the DVD release date, that our widget guy, Chris Chang, got right on it: Our Mac Dashboard and Yahoo! Widget Engine, which used to be Konfabulator and is supported by Windows and Mac.
Note: Yahoo!/Konfabulator users have to have the latest version of the software installed to make it work: go here to get the Mac version, here for the Windows one.
This countdown widget, pictured left, gives you the days, hours, minutes and seconds until you can purchase the Goblet of Fire DVD.
We also have some news on our Harry Potter News Widget, which until now has only been available for Mac OS X v. 10.4.1 or later, and was honored as an Apple Staff Favorite; Chris Chang has made a version for Yahoo!/Konfabulator, which will be available very shortly and will mean you can run it on Windows. We'll update you again when it's up in the gallery.
What's a widget? Read up on Wikipedia.