Leaky Wins Yahoo! Search Find of the Year People's Choice Award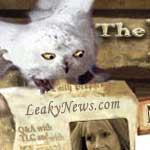 Feb 02, 2006
Uncategorized
Thanks to you all, Leaky has been voted People's Choice in the Yahoo! Search Finds of the Year Awards 2005.
The news has now hit the AP (apparently NASA's site was also up for the award), and BBC (and now we feel guilty for winning over the school site! Hey, all right, here's a shout out to Woodland Grange Primary in Oadby, which won in the education category for a site full of homework tips and pupils' blogs. You guys are great).
Andy Williams, of Yahoo Search, said: "This award gives the nation a chance to have their say and the overwhelming popularity of the winning site shows that Harry Potter fever remains strong, even though the first book was published almost 10 years ago. It's a well-designed and comprehensive site that has won the approval of Potter fans everywhere."
Leaky was first chosen as a shortlisted contender for this award from a panel of judges, and you all, in the last week of voting (which is when we remembered to post the link!), went and made sure the world knew how much you appreciate the site. I hope we can show you all how much we appreciate you right back!
And to John, Nick, Sue, Doris, NickR, Kristin, BK, Julie, Alex, Heather, Stede, Chris, the Lounge Mods, the Chat mods, the Floo team, and everyone: Thank you, again, now, yesterday, tomorrow, always.