Contests and Promotions Begin for the Goblet of Fire DVD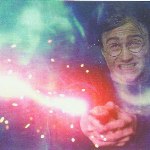 Feb 24, 2006
Uncategorized
As we are getting closer to the release of the Harry Potter and the Goblet of Fire DVD, some of the marketing and contests involving this newest disc are beginning to take place. While many contests are likely to start within the next few weeks, one TLC reader let us know about a contest already underway, sponsored by the Funday Times, which is the children's section of The Sunday Times newspaper. They are giving away six GoF DVDs, "plus a laptop computer, a PSP console and a Harry Potter goodie bag (including a film cell, GoF PSP game and more) for the 1st prize winner." Open to UK residents ages 16 and under, this contest requires you to answer the question "What is the name of the actor who plays Draco Malfoy?" To enter:
Mark your entry HARRY and send it, with your name, age, address and home tel number to:

Funday Competitions
PO Box 6162
Basildon
Essex
SS14 3GF
or
[email protected]
(only 1 e-mail per entrant)
Competition closes 1st March
Also, we have gotten word from several readers now that new promotional materials are going to the retailers of the Goblet of Fire DVD, and include such things as buttons, posters, window clings and more. Finally, TLC reader Bella reports that there is a new television spot promoting the DVD airing as well. Anyone with photos of the new promo materials, or video of the new tv ad, please send them in! Thanks to Vel, Bella, and all who let us know!