Goblet of Fire DVD Pics, Screenshots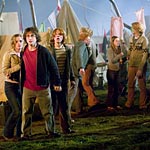 Feb 28, 2006
Uncategorized
Thanks to reader Leigh, we have more than 20 new shots of the Harry Potter and the Goblet of Fire DVD menus and casing, in our galleries. Enjoy!
The DVD will be available March 7 in the U .S. in widescreen, fullscreen, widescreen deluxe and as part of a gift set.
Thanks Leigh!
Update: Reader Crystal has also sent in pics of the promotional items used with the DVD, and they've now been added to the album – thanks Crystal!