Two More Award Noms for Goblet of Fire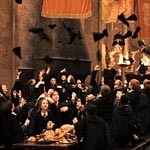 Mar 26, 2006
Uncategorized
Harry Potter and the Goblet of Fire has received two more award nominations. First, Canada's Spacey Viewer Coice Awards have listed the film in the "Favourite Movie" category. Vote here. The Spacey Award winners will be announced May 27.
The Hugo Awards, to be presented at L.A.Con IV Science Fiction Festival on August 26, list GoF in the category "Best Dramatic Presentation, Long Form.
Thanks to Snitchseeker.com!