Stephen Fry to Co-Write, Co-Direct Film About Indian Math Genius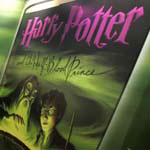 Mar 31, 2006
Uncategorized
Stephen Fry, reader of the UK Harry Potter audiobooks, and Indian filmmaker Dev Benegal are collaborating on a film about Indian mathematician Srinivasa Ramanujan and his friendship with Cambridge mathematician G.H. Hardy. Ramanujan was a clerk from a poor family whose passion for numbers led him to correspond with Mr. Hardy, who was so impressed that he invited him to Cambridge. Mr. Ramanujan's theories are said to have become the underpining of the Digital Revolution. India West says:
"Much like the story of Ramanujan and Hardy, both Fry and Benegal had for years unknown to one another dreamt of making a film on this amazing friendship across cultures and continents."
Mr. Fry and Mr. Benegal will co-write and co-direct the film, which will be a co-production between India and the United Kingdom. Filming will begin next year.