Harry Potter Author J.K.Rowling Interview with GirlGuiding Scotland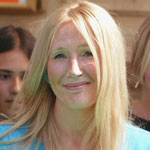 Apr 29, 2006
Uncategorized
A few weeks ago, we first told you there would be a new interview due with author J.K. Rowling and GirlGuiding Scotland. Included with a group of over 100 women, this interview with JKR is part of a "campaign by Girlguiding Scotland to inspire young women and girls with examples of talented and inspirational women from Scotland." The piece with Jo is now online, and she answers several questions, including those about her career, being a woman, and things in life that are important to her. She also discusses the Harry Potter books saying:
Because of the huge fame of the Harry Potter novels – and therefore great expectations surrounding them, how do you stop that from impacting how you develop the story or characters?

JKR: I am very protective of my characters and the storyline; I stick fiercely to what I believe is right for them even if I know that it will make some fans unhappy (for instance, some of the romance in book six disappointed readers who were hoping for other pairings).

However, resisting this kind of pressure is not as difficult as you might think, because I did a lot of planning in the seven years between having the idea for the Potter books and the publication of 'Philosopher's Stone', so I have a kind of map to keep me on track.
…

Do you think Hermione has the right skills and attributes to become a good Guide?

JKR: I can easily imagine Hermione in the Guides, given that she's resourceful, highly motivated and eager to learn. She might be a little over-competitive when it came to interest badges, though.
To read the entire interview, click here.