Rupert Grint in New York for Driving Lessons Premiere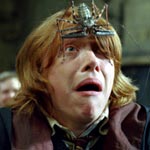 Apr 30, 2006
Uncategorized
Previously, we told you that actor Rupert Grint (Ron Weasley) would be in New York for the screening of his new film Driving Lessons. Last night Rupert attended one private event for the film , and we now have a series of photos of Rupert at this event along with his co-star Laura Linney. The film premiered today at 8:30pm for the public.
Update: Hi-resolution pictures have been uploaded to the gallery by our awesome gallery lady, Mary, right here; see more at the links below!
UPDATE: Rupert appeared on Fox & Friends this morning, and RupertGrint.net now has the video of his interview, which you can watch via this link. Thanks much to RupertGrint.net and to Page!