PotterCast #38: Dobby is freeee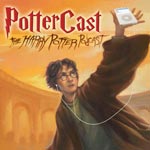 May 08, 2006
Uncategorized
PotterCast #38, Dobby is freeeee, in which the second of two parts of your awesome Harry Potter Impersonations stars, is live!
In this show:
-The second part of your Harry Potter impersonations!
-Leave your voicemail for next week's Canon Conundrum now: Who else in the canon made a horcrux?
-HP movie season has officially begun: Terry Gilliam falsely rumored as director
-It's now the Driving Lessons Cauldron
-John and Sue try and start Leaky Mug 2007 rumors
-Melissa announces that Harry's eyes are green
-John announces that Harry has eyes
-Dobby is FREEeeee
-Seekers don't die; they just go away for awhile
-In Canon Conundrums: What's important about Harry's eyes?
-Steve smacks John down: "You're wrong, but I like listening."
-An impersonation that is hard to discern from the movie
-DAWWWWWWWWWLISH calls in. He doesn't like being liked.
-Vernon Dursley insists we shut down the Leaky Cauldron
-Stede callls in! And we all notice this time!
-"Thump"
-Voting for the Impersonations contest soon!
-Melissa has a rock band
-Dobby likes his socks and his horcrux
Running time: 1:16:47
If you are new to all this podcasting stuff, it's really easy: download and install iTunes, then click here to listen. Everything else is at PotterCast.com – you can also direct download it here, and discussion of the PotterCast is right here. Enjoy!