PotterCast 41: Wizard Rock, Now Live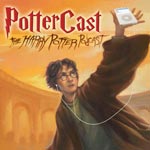 May 29, 2006
Uncategorized
PotterCast 41 is out and it's a rocking good time:
In this show:
-Part 1 of the Lumos Limelight – Alex of The Remus Lupins (find him at myspace.com/theremuslupins) – who will open for the LeakyMug in Vegas – joins the show to talk about life as a wizard rocker
-The Remus Lupins perform in the "studio"
-Canon Conundrums with Steve Vander Ark: All about the whispers behind the veil and what they might mean
-The uses of dragon's blood and the significance of Dumbledore having been the one to discover them – in the modcast with Lorie, Jason and Sue
-The third-worst wrap we've ever done
-The veil in movie five: A superman bedsheet?
-Send us your PotterCast quizzes!
-National Buy Your PotterCast Shirt Day (haha MuggleBoys, just kidding)
-PotterCast onesies
-John will already make his nephew suffer through burrito gear
You can listen to the show on iTunes (download and install here) by clicking here to listen, or you can just use the streaming Flash player at PotterCast.com. You can also direct download it here, and discussion of the PotterCast is right here. Enjoy!