Robbie Coltrane: Hagrid Based on Hell's Angels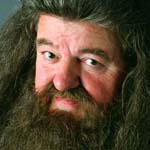 Jul 19, 2006
Uncategorized
Actor Robbie Coltrane has given a new interview to the Daily Record where he discusses his role as Hagrid in the Harry Potter films. The actor, who says he just finished filming his scenes for Harry Potter and the Order of the Phoenix, says that Hagrid is based on a character like a Hell's Angel motorcycle club member from England.
"He used to get off of his Harley and walk towards the bar. People would move like ants out of his way. He would grab his pint, find a seat and say: 'I don't know about you, but the petunias this year are very bad.' "He was a gardener but he had fists like hams. He had a gentle heart."

"When we started talking about it, JK and I talked for three hours. She told me all about Hagrid's past, so I felt very confident about the part."
Robbie, who can currently be seen in the new film Stormbreaker as the Prime Minister, goes on to say that children really do not recognise him away from his role as Hagrid.
"The good thing about Harry Potter is that I'm unrecognisable. So if 10-year-olds come up and give me a hard time at the airport, it's only because their parents have told them. And they've not seen all my other stuff, which is too scandalous for them to be allowed to stay up to watch, really."

"So I've been very lucky. I've had about three careers, because I started off in comedy and sketch shows and was sort of a young, dangerous lefty comedian, then I moved to Tutti Frutti and was a straight actor. Now suddenly I'm the children's friend."