Leaky and MuggleNet to Face Off in Trivia Battle at Podcast; More Vegas and Podcast Updates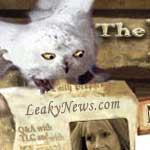 Jul 27, 2006
Uncategorized
The rumors are true: the PotterCast team from Leaky and the MuggleCast team from MuggleNet will face off in the ultimate Harry Potter trivia battle at the end of the LeakyMug podcast on Saturday. It will be hosted and moderated by the Harry Potter Lexicon. Be there for the grudge match.
The podcast starts at 6:30pm at the J.W. Marriott in Las Vegas; we'll be giving out wristbands starting at 4pm at Lumos. If you're a registered Lumos attendee you get preferred seating, but you don't have to be registered to see the show. If there are more of you than there are seats, we will have a live video feed in a different room at the convention, so you won't have traveled all that way without seeing the show. Can't wait to see you!
Meanwhile, Lumos has started and we're having a great time. If you can't be with us, follow the blogs of those who are here, or add your own on the LeakyMug website. Meanwhile we'll be adding pictures to the galleries continually here.
Also, Official Scholastic podcast at the Barnes & Noble in Summerlin on Monday was another big success. The audio for the Chicago event is now online. Our next stop is in Los Angeles on July 30 at the Barnes & Noble at The Grove at 1pm. We hope you'll come see Emerson, Cheryl and me if you're in the area! And don't forget, we're doing another live LeakyMug podcast in New York City on August 2nd at the Union Square Barnes & Noble at 12:30pm.