PotterCast #53 Now Online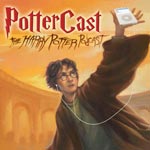 Aug 29, 2006
Uncategorized
At long last, PotterCast #53 is up! In this PotterCast, we have our last installment of our Matt Lewis interview, and much more. To listen, just hit the "Play" button on the right side of the page (—>), or use iTunes, or direct download.) More notes:
-Matt Lewis is back for the third and final installment of his PotterCast interview; he talks about Neville's love life, courage in the Harry Potter books, and how his perception of his role has changed since he's been playing it.
-"Oh, man, you are so Dawlish," says Matt.
-Courage – being scared to death but saddling up anyway.
-Julie from Leaky interviews the HP Alliance, who are trying to motivate Harry Potter fans to make a difference by paying attention to the messages in Harry Potter
-Canon Conundrums got eaten by the god of technology (whose name is Jeff – not the PotterCast editor Jeff, just Jeff) and will be back next week.
-Will the poll impersonations contest poll go up this week?
-What exactly is a John prize?
-New LeakyMug coasters and other things on the Leaky Mug Cafe Press store.
-Sue's on a beer stein!
Remember you don't need an iPod to listen; just a computer and an internet connection, which you already have! You can listen most easily on iTunes, which you can download and install here by clicking here to listen, or you can just use the streaming Flash player at PotterCast.com or just on the right side of this page. You can also direct download it here, and discussion of the PotterCast is right here. We will also have a chat today on the Leaky Lounge at 4 pm EST, so log in at that time for that! Enjoy!