Lemony Snicket Author Talks Harry Potter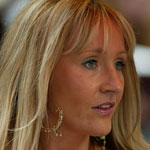 Oct 10, 2006
Uncategorized
As the last and 13th installment of the popular A Series of Unfortunate Events books is due to be published on friday October 13, there are new interviews now online with the Lemony Snicket author Daniel Handler. In a recent interview, the comparison was made again to the Harry Potter books, and Mr. Handler remarked on the books, continuing on to say that he has never actually met author J.K. Rowling.
"Mostly I feel paralyzed" when asked what he thinks about Potter, he said. "If I say something nice, I appear to be sycophantic, and if I say something mean, I appear to be catty. I certainly don't think of it as a competition, because if it were a competition, I would be losing." Giggle.

"People assume we're either very close friends or mortal enemies," he continued, "when actually we've never met. There was an event in London where we were supposed to meet, but I got sick and had to cancel. I thought that would be such an awkward first meeting, because we'd be at this large gathering and everyone would be watching us shake hands.

"I thought I would grab her and we would run out of the hall and get into a London taxi and go to a pub and have four rounds of drinks." He giggled at the fantasy. It was hard not to.