More on Rupert Grint in "Parade" and "Driving Lessons" Reminder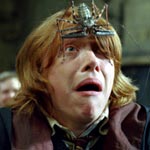 Oct 10, 2006
Uncategorized
As we first told you a few days ago, Rupert Grint was featured in "Parade" Magazine. That interview, which was due to be online today, has now been posted along with a new question and answer session from Rupert. Some sample questions:
Do you have a favorite gadget?
I really like my iPod Nano, which I have rigged up in my car. I also just got a great new gadget to help find lost golf balls on the course!

If you weren't in films, what career would you choose?
Probably something to do with cartoons or animation. Art was a subject I excelled in, and I really like drawing caricatures.
While it does briefly mention Harry Potter, the bulk of the interview deals with Rupert's new movie "Driving Lessons" which is due to open this weekend in limited release here in the States. If you are interested in seeing this film, be sure to check out the US Driving Lessons website which has the listing of theaters that will be showing the film.