New Interview with Helena Bonham Carter in "Easy Living"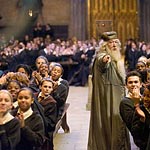 Oct 11, 2006
Uncategorized
Actress Helena Bonham Carter is profiled in the new November issue of "Easy Living" magazine. While much of the interview focuses on her relationship with director Tim Burton, motherhood, turning 40 and more, Ms. Carter briefly mentions her role as Bellatrix Lestrange in the upcoming Harry Potter and the Order of the Phoenix.
You're renowned for your English rose looks – have they been a help or a hindrance in terms of the roles you've been offered?

"…I love playing witches and I've done it several times now. I'm playing one in the new Harry Potter film [Harry Potter and the Order of the Phoenix] and I cannot wait to get my wand. I'm very fond of disguises, wearing a new set of teeth for instance; they instantly make you speak differently and completely change your face…"
You can see some great new photos of the actress as well as the entire article here in our galleries. Thanks very much Louise!